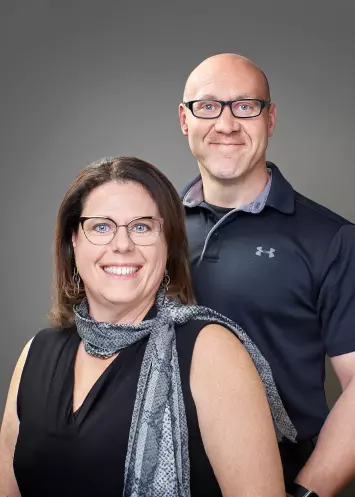 He enjoys spending time with his wife, playing with his son, pestering the dogs, and weight training.
Dr. Tim, Joni and Caleb Ballitch
Dr. Tim spent seven years teaching high school chemistry and seven years as a high school assistant principal before becoming a chiropractor in 2017. He loves to teach, just check out his Instagram page. Dr. Tim has been involved with many sports through the years including football, cheerleading, running, shooting, Brazilian Jiu-jitsu, Muay Thai, and powerlifting. He speaks your sports' language, understands your mechanism of injury, and knows what it takes to rehab you out of the situation permanently.
In addition to being an athlete, Dr. Tim is a Christian, husband, father, and dog owner. Dr. Tim and his wife Joni understand life's pressures and are here to help. We have a strong group of professionals in our network to make sure you get all the care you need.
Joni was an elementary/middle school educator for twenty-three years. She taught fifteen of those years with the Detroit Public Schools, MI. Four years in the Cobb County Schools, GA, and then two years with the Tolleson Public Schools, AZ. Ending her career with the Litchfield Public Schools, AZ. Covid years ended her passion for teaching to learning more about the practice for Muscle Chiropractic. Joni is the Office Manager, front desk guru who can assist you with just about anything that is non-doctor related. Providing A+ Customer Service at Muscle Chiropractic and making you feel like you are always welcomed and part of our family.
Caleb is our thirteen-year-old son in high school. He works a few days a week during the summer months and an occasional Saturday at Muscle Chiropractic. He also will be able to help you with scheduling, taking payment, and operating the front desk duties at the office. You will be amazed how our teenager can put a smile on his face and always be professional.
We also have Gabi as an occasional Saturday employee who fills in for Joni and Caleb. Gabi is an educator and able to provide you with top notch customer service at our front desk.